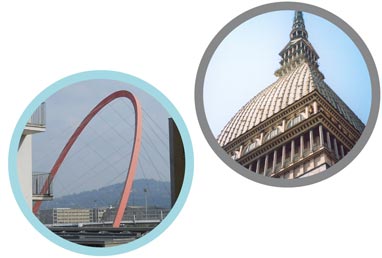 Turin has greatly changed becoming a major tourist attraction thanks to important requalification projects also because of the Winter Olympic Games in 2006 and the 150th Anniversary of the Italian Unification. Culture, history, art and technology have always been the DNA of Turin, a city capable of anticipating, managing and enhancing the value of social changes. Over the last decade our city has turned itself into a proper "social lab" where trends are set or anticipated.
Turin is a dynamic European city rich in artistic and cultural stimuli and new ideas.
Turin has become a major attraction for traditional tourists (with the 2nd largest Egyptian Museum after Il Cairo, the Museum of the Cinema, the New Museum of the Risorgimento hosting the first Italian Parliament, the restyled Car Museum, Venaria Reale etc.) and less traditional tourists (first Italian stadium in British style, il Lingotto, Eataly, the Ancient Roman Quadrilatero….)
We are glad to host you in our functional and flexible location with the support of friendly and qualified staff.
We provide complete services with our internal staff so as to cater for any research project in the best way.
Our facilities are located in central Turin and provide a welcoming, well-equipped setting where professionalism is expressed in a familiar atmosphere. Our staff will receive you walking you through the facilities providing you with all the material you might need.
We welcome our guests with a good Italian coffee. During your stay, there will always be somebody from our staff to provide you with whatever you need.
Our facility is really welcoming. In functional offices the atmosphere and the furniture will make you feel at home.
Our offices are located in central Turin close to Porta Susa railway station. They include an interviewing room for focus groups, an adjacent viewing room with one-way mirror , additional offices which can be used by clients according to their needs, a kitchen corner and a direction room.
The rooms are air-conditioned.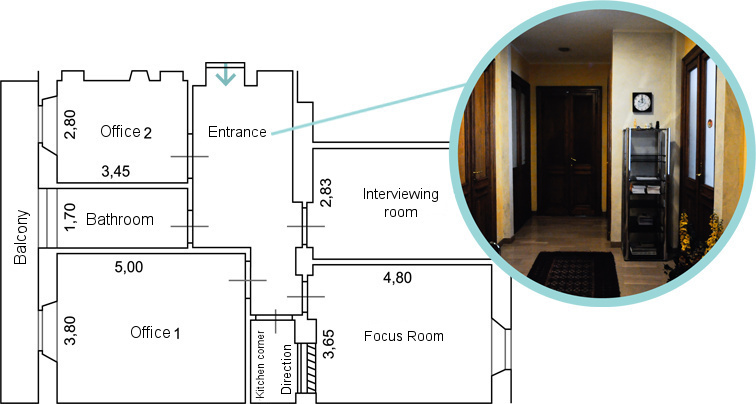 The furniture and set-up of our offices can be adjusted to the needs of clients: hereunder some examples of lay-out implemented so far
Interviewing room
[galleria id="418″]
Viewing room
[galleria id="422″]
Office 2
[galleria id="423″]
The direction room, is separate from the viewing room and only our staff can access it.
We have the following equipment:
• Audio- and video-recording unit
• Simultaneous interpreting unit
• DVD recorder (it is possible to record sound-tracks in two languages)
• Flipchart
• DVD player
• Beamer + wall monitor (cm 200 x 200 cm)
• 40'' TV monitor supporting different devices (usb, pc, dvd player)
• Laptops
• Monitors
• Protected wireless connection