Our rooms, located in central Turin, are available for private meetings, training courses and briefing sessions.
We can also provide assistance to receive hosts and technical equipment, organize buffets or happy hours.
If you need a location structured for work meetings, both regularly or occasionally, our rooms can be your point of support to complete your business giving it visibility and operating capacity in the Turin area.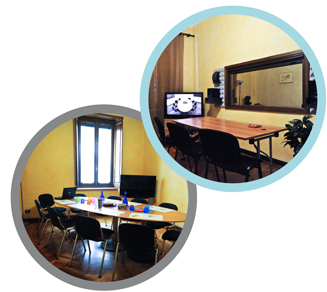 Emisphera facilities can also be used by staff selection corporate departments or by specialized personnel recruitment agencies which do not have a location in Turin.
To implement these activities, we propose methods such as:
• group interviews
• viewing of the interviews by the clients through the one-way mirror
• differed viewing by the corporate management thanks to audio and videotaping
• videostreaming
Emisphera staff can take care of organization and pre-selection activities with methods agreed with the client.